Wouldn't you LOVE to earn up to $180.00 in gift cards just by using a program on your device called

Media Insider

?!
It's super easy, sign up for

Media Insiders

and you'll score $5.00 a month, for every device you add. You may add up to 3 devices at $5.00 each= $15.00 a month! Once you have signed up open your confirmation email on your device, and activate the app! That's it.. even a caveman can do it ;) LOL!!
**This program works on Android Phone, Android Tablet, iPad, iPhone, iPod touch and Kindle fire**


Plus

,

just for signing up your entered to win $10,000 CASH I mentioned above!
As a Media Insider panelist, you can choose to earn the $60

.00

each (

up to 3 devices = $180.00)

year from Tango Card for installing, activating and consistently running the MI

Mobile app

for a minimum of 20 days per month. For each device registered and running the MI Mobile app, you'll receive a $5.00 monthly reward applied to your Tango Card.

FYI: The Tango Card is a versatile

gift card

where the recipient can select from top-name brands such as Amazon,

Groupon

, Home Depot, iTunes, Target, Starbucks and more
As a Media Insiders Panelist, you're participating in ground-breaking research that will help leading companies understand the ways mobile, television, digital, social and other media are viewed, used and shared. Your participation will have a direct impact on how entertainment and information is delivered to consumers today and in the future.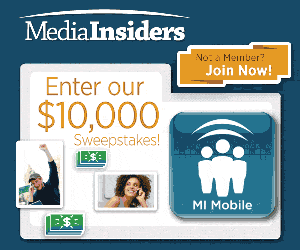 This post may contain affiliate or referral links. By clicking through on these offers, you are helping to support this site. Thank You Krazy

,

Coupon Club!!
Also like KCC on Google+!!-
HERE
Check out my page on Facebook! "Like" the page for great coupons, deals and scenarios at
KRAZY COUPON CLUB