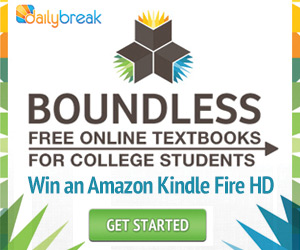 Never Pay For Text Books Again!!
Introducing the

Boundless Free Textbooks

Challenge...Complete the challenge and you will be entered to win an Amazon Kindle Fire HD (grand prize) or 100 Dailybreak coins (which you can use in our Prize Booth to bid on auctions and enter raffles for more prizes).
This post may contain affiliate or referral links. By clicking through on these offers, you are helping to support this site. Thank You Krazy

,

Coupon Club!!
Also like KCC on Google+!!-
HERE
Check out my page on Facebook! "Like" the page for great coupons, deals and scenarios at
KRAZY COUPON CLUB