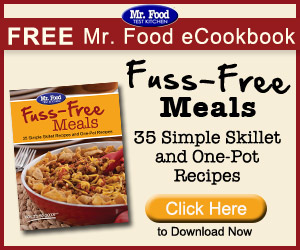 Looking for a quick fix dinner?? Then check out this FREE eCookbook!
Here is one of they recipes:
Free eCookbook: Fuss-Free Meals: 35 Simple Skillet Recipes and One-Pot Recipes features 35 pages of simple skillet and one-pot recipes + Mr. Food Test Kitchen Recipe eNewsletter for FREE! Get this brand-new, FREE eCookbook collection to find out the secret to home-cooked, 'Quick & Easy' dinners. In our latest eCookbook, the Mr. Food Test Kitchen has made cooking a breeze with simple and classic skillet and one-pot recipes that will stay in your family for a lifetime. The eCookbook has step-by-step instructions for easy recipes like Skillet Shepherd's Pie (page 1), Chicken Pierogi Skillet (page 6), Farmstyle Hamburger Stroganoff (page 8), Skillet Sombrero Pie (page 13), Skillet Barbecued Pork (page 16), One Pot Mac 'n' Cheese (page 22), Skillet Lasagna (page 23), Seafood One Pot (page 25), Skillet Sweet Potatoes (page 31), Chopstick Veggie Fried Rice (page 35), and lots more.
This post may contain affiliate or referral links. By clicking through on these offers, you are helping to support this site. Thank You Krazy

,

Coupon Club!!
Also like KCC on Google+!!-
HERE
Check out my page on Facebook! "Like" the page for great coupons, deals and scenarios at
KRAZY COUPON CLUB